Concrete Footpath Sydney
Inspire Concrete offers design, construction, installation, repair, and maintenance of the highest quality concrete footpath in Sydney and surrounds.
Gone are the days of unpaved footpaths and here are the days of long-lasting concrete footpaths.
We also offer decorative concrete footpath construction services. With us as your concrete footpath contractor, the choices are endless, with endless colour options, patterns and aggregate styles available – you will be glad that you hired us.  A decorative concrete pathway not only adds an extra wow factor to your home but can also increase the value.
The team at Inspire Concrete has been providing impressive concrete footpaths for several years now. We can provide you with the most appealing concrete path around house areas or restore concrete patio features so you can have the most beautifully created concrete garden patio Sydney residents will love.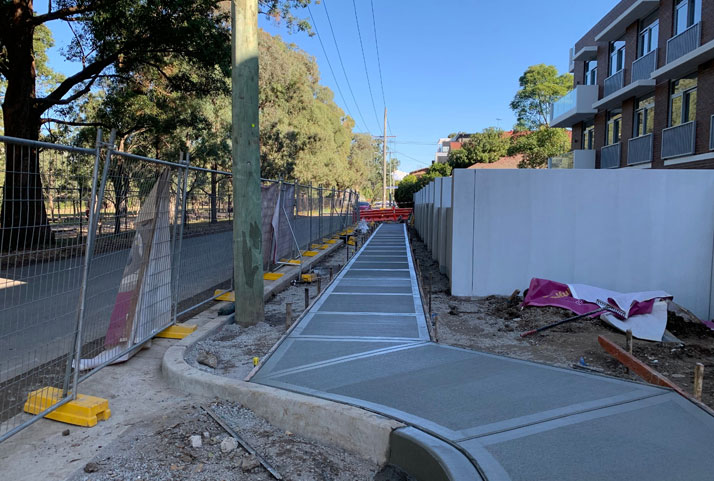 We also offer concrete footpath repair services
Residential concrete footpaths are a common feature of any modern home as they are practical and durable.
After some time, however, a well-loved concrete footpath can show some discolouration, cracking and scaling. This is often the result of improperly compacted sub-grade, low quality work, and bad placement procedures as well as weather conditions. If your property is suffering from these problems, let us take care of that with our concrete footpath repair services.
Why us?
We have instructed our team members to follow a unique multi-step and scalable project handling process that alters with every unique project we handle or have handled over the years.
Our process starts with an extensive consultation session where our team members, surveyors and design specialists will understand your ideas and vision for the work you have in mind for us to complete at your property.
Our experienced and dedicated team will come up with a concept that will be on par with what they have learnt about the work you have in mind for your property. If you do not like the concept, just tell us and the necessary changes will be made right away. 
We are known to work collaboratively and professionally with the clients that allow us to deliver impressive results, time and time again.
GET A FREE NO-OBLIGATION QUOTE TODAY!
We have vast skills, knowledge, and experience in everything to do with concrete. Request your free quote now to get started.