Slab Ground Formwork Sydney
Inspire Concrete is proficient in offering the highest quality slab ground formwork in Sydney and surrounds as well as the most reliable steel fixing services Sydney has to offer as we have a dedicated team of revered ground formwork and steel fixing experts under our payroll. Hire us as your slab-on-ground formwork and steel fixing contractor and let us create help you create a strong foundation for your building.
As a formwork contractor, we understand that we are responsible for creating strong foundations for your project with solid concrete steel fixing or structure steel fixings so that they can reach the level or height that you have envisioned.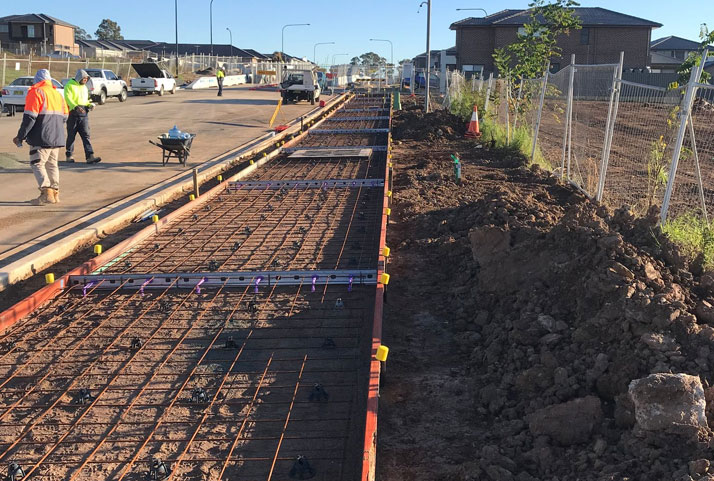 Steel Fixing Services Sydney
We have the capabilities to work on all types of construction projects, including steel fixing services in Sydney. Our formwork experts can create footings, construct safety barriers, dig foundations, remove existing materials, and see to it that the build process is completed along with the final fit-out.
Inspire Concrete has gained quite the name for itself all thanks to our attention to detail, creative approach, and ability to handle large to medium projects with ease. We are chosen by our clients as we capable of executing high-level builds with relative ease.
WHY US?
We are backed by a team of experts who are capable of working with all kinds of materials. Our team members have the required physical stamina and impeccable hand-eye coordination. We have also trained our formwork experts to be extremely detail-oriented and masters at calculating and measuring.
The demand for formwork experts will always be there and being a building & constructions contractor we have made sure that our team members have a solid understanding of the entire formwork construction process.
Our team members have the capabilities needed to build major structural components all thanks to their ability to be aware of the work that needs to be done.
We make sure that our formwork experts make sure that items such as concrete footings or brickwork are built and formed correctly. This is vital as any failings in other structural components can lead to the formwork failing.
With us as your formwork contractor, you can rest assured that issues with fitting doors and windows, or bowing frames providing an uneven finish are kept at bay and you are presented with results that we advertise on our website and social media handles.
GET A FREE NO-OBLIGATION QUOTE TODAY!
We have vast skills, knowledge, and experience in everything to do with concrete. Request your free quote now to get started.